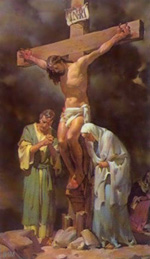 Prepare for Easter each year by gaining a better under-standing of those crucial final days in Jesus life. Under-stand the reason for His suffering. This dramatic and musical interpretation of the Stations of the Cross will in-spire you. We look forward to seeing you. Follow this link for all the details!

Our Reputation is well known! Join us for St. John the Baptist Parish Family Lenten Dinners! Casual atmosphere - terrific for a night out with the kids!
Dinners include our well-know Homemade New England Clam Chowder, Full Salad Bar, Choice of Vegetables, and Choice of Macaroni & Cheese, Baked or Mashed Potatoes. Beverages and Homemade Desserts also provided.